The traditional H series tower illumination slit lamps from Keeler features quality design and leading technology. Our advanced design and manufacturing techniques give the Keeler slit lamp the advantage of stunning optical performance providing customers with confidence in the quality, accuracy, and reliability.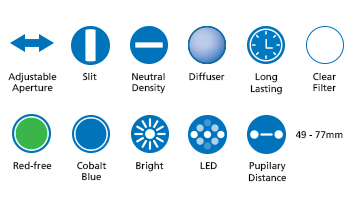 Features:
Traditional slit lamp with Keeler optics
Traditional tower LED illumination
5 step magnification system (x6, x10, x16, x25 and x40)
8° converging eye pieces: 49 to 77mm
Slit Width - 0 to 12mm continuously variable
Slit Length - 0.2, 2, 3, 5, 9 and 12mm circle (1.8 to 12mm continuously variable), and 1mm square
Filters: neutral density, red-free, diffuser, cobalt blue, yellow, and IR heat-absorbing filter permanently installed
0 to 180 degree continuous slit angle
Traditional H series slit lamps come with a 3 year warranty and are available in a unit or table mount configuration. Unit modules include a power supply, table top, and mounting post. Table modules include a power supply, drawer, and table top.